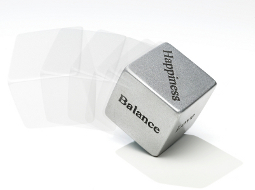 The basic definition of "Life" is that period of time that you spend here on the Earth between the time you are born and when you finally die.  Despite the over-used cliché "Life is what you make it", many individuals today feel as though they are victims of life, rather than being a meaningful entity having a purpose within it.  One of the most essential steps that you must take towards regaining control of your life is also the most difficult one, and that is accepting responsibility for your actions.   Even though death is the final event in a person's life, they are continually faced with a variety of uncontrollable events throughout their lives.  Unfortunately, what happens during our lives when we are confronted with these uncontrollable events greatly affect all aspects of our lives including:
Good health and well-being
Interpersonal (and other) relationships
Personal happiness
Personal spiritual growth
Progression towards and achieving our dreams and goals
Hypothetically, we try to achieve all of the above.  Unfortunately for most of us, this is not the way that our lives unfold.  There are numerous things that can often derail us in our search for the above.  For instance, some individuals may live on a continent that has the wrong climate and is not conducive to their health and well-being.  Others may live in a city that they hate or live in a house that they are unhappy with. Additionally, we drive the wrong type of vehicle, are living with the wrong partner, we don't like the shape of our bodies, or we feel like we have the wrong haircut.  It is the inability to exert control over our lives that lead to all of the above.  Despite the fact that we continually complain and grow increasingly unhappy with out lives, we still don't take any steps toward correcting our behavior and our thinking.  We see our dreams beginning to fade as we grow older. The harsh reality is that the societies that we are a part of never train us to be successful.  Instead, society teaches us that we are selfish if we focus on our personal needs and wants.  We are taught to carry huge responsibility with career and family which eventually traps us in a rut for decades.  Somewhere during our life journey we lose focus because we're driven by these uncontrollable events mentioned above.  Careers, family, and home mortgages make it tough to re-assert that necessary control over our lives.
The Benefits of Life Coaching
The issues addressed in the section above are all aspects of a person's life that Life Coaching can help you get a handle on so you can take back the control in your life. Life Coaching emerged in the 1990's so it is still a relatively new concept.  All of us at some point in time have wanted more out of our lives even though we can't seem to attain those needs and wants. Life has never been more complicated than what it is today, and Life Coaching is a method that can help with these complications that we encounter on a regular basis.  Whether you bring a vague idea of what you want out of life or you have specific needs and wants, I possess certain exercises and a variety of tools that will help you achieve those life goals as well as take back that control of your life that has been missing. Being happier in your life is something that Life Coaching will help you to accomplish inclusive of aspects such as:
building a better body
building a better relationship
changing careers
earning more money
gaining a promotion
finding a new relationship
Additionally, Life Coaching will teach you how to discard those destructive habits that have been roadblocks in your life's journey.  It can help become more healthy, build a social life that is nothing short of stunning, improve the current home that you live in or move into a new one, make new friends, take up new and interesting hobbies, and much, much more.  The real work begins once you defined your focus as well as what you want out of life. Life Coaching is comprised of a series of telephone interviews or sessions which will normally last approximately 45 minutes and occurring usually once a week.  The typical Life Coaching course will be comprised of 4 of these telephone sessions.  However, the real breakthroughs normally don't occur until you have been through 6 sessions.  Some coaching sessions continue for months, depending on the individual, so there is no limits set on the duration of these sessions. I work with you in order to clarify your goals and your current situation.  Normally you would pick a primary major goal and proceed to work on that goal with my assistance.  By working together, you will be able to refine your goals while developing a detailed plan that will enable you to move closer to that primary goal.  Each week, we will agree upon a plan of action, and then in between those sessions, you will work towards completing that particular plan of action. We will also address those problems that inevitably arise during your life coaching sessions.  Consequently, this type of operation is much more effective than just reading Life Coaching books.  There will be times when you have to alter your plan and I am trained to assist you with the following aspects:
listen very carefully to what you say
discover those beliefs which are self-limiting
work with you on removing those self-limiting beliefs
Through my experience, external perspectives of your life and training will prove to be your greatest asset as a Life Coaching student.  I will assist you by:
boosting your confidence and self-esteem
building your motivation and your stamina
keeping you continually focused on achieving your life's goals
untangling your confusion
Working together, you, myself, and Life Coaching will help you achieve your goals and attain success in the process.